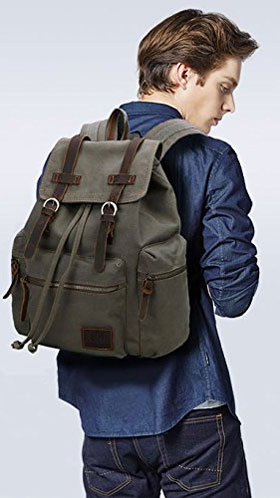 This vintage canvas rucksack has a different look and feel from most of the other tactical packs on this website. That said, it still carries the rugged military style – without the molle straps.
You could use this vintage-looking backpack for a variety of different purposes. However, I think it works especially well as a laptop carrier of book bag.
The main compartment contains a padded section specifically for laptops and tablets. In fact, you can fit a device up to 14 inches long.
It has an old-school drawstring closure, which lets you open the bag wide. This design feature makes it easy to place and remove items from within the pack. Plus, I think it makes it easier to find stuff.
In addition, you've got three more exterior pockets with zippers. Plus you'll find 5 more internal pockets for organizing smaller items like electronics, sunglasses, work supplies, your phone etc..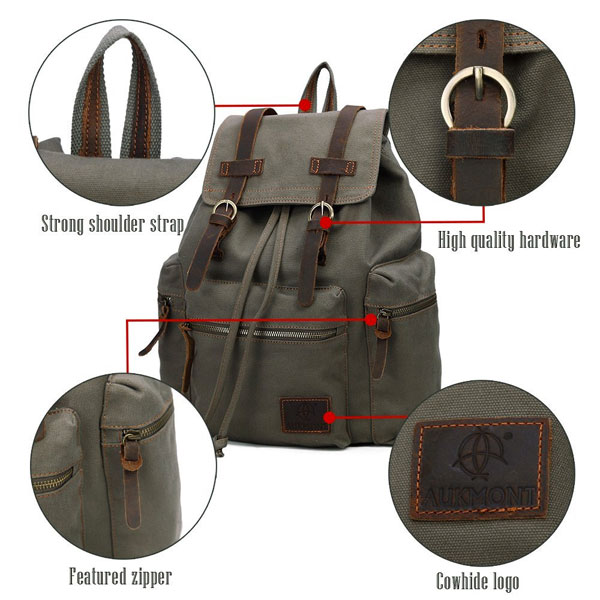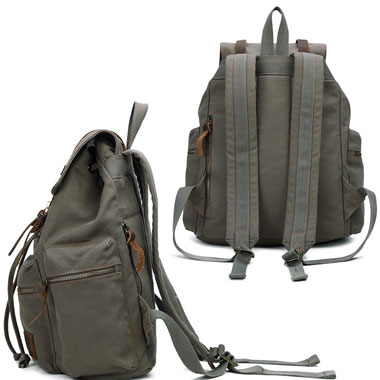 The padded, adjustable shoulder straps are comfortable, yet they don't detract from the vintage style of the pack. You can also use the grab handle at the top of the bag when you don't feel like slinging it over your shoulder.
The canvas on this vintage military backpack is not waterproof. The canvas material is plenty durable to last many years. However, if you want to add an extra layer of moisture, spill and stain protection to your pack, you can spray it with a $6 fabric guard.
Note: This military vintage backpack comes in 6 different rugged neutral colors, including, earthy yellow, khaki and grey. They all have a canvas structure with leather straps and metal hardware. Check them out to see which style fits you best.
Vintage Military Backpack Specs: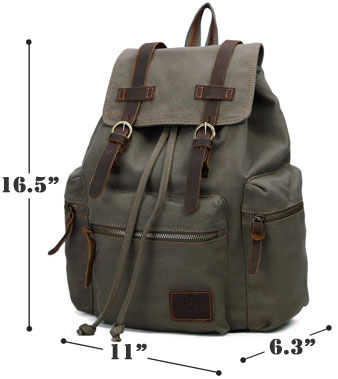 This pack has an average size, and it fits well on both men and women.
The recommended weight capacity is about 10 lbs, although most people won't need to carry that much weight anyways.
Right now, this bag is on sale. It only costs between $25 and $40 (depending on the color you choose). This is a bargain, especially when you compare it to other vintage military backpacks that also contain real leather and metal hardware.
Dimensions: 16.5″ Tall x 11″ Wide x 6.3″ Deep
Material: Canvas with Leather Straps & Metal Hardware
Bag Capacity: 19 Liters