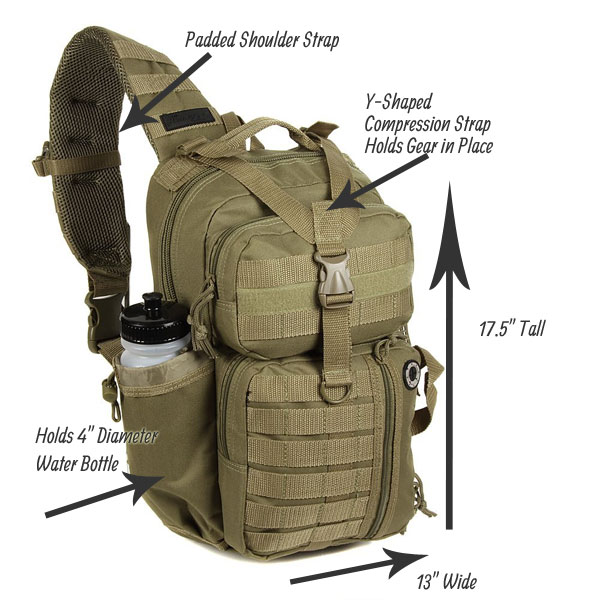 Carry Plenty of Gear Without Having to Haul a Giant Pack.
If you want a convenient everyday daypack, most likely you don't want a giant backpack nor a small camelback. This tactical sling backpack features plenty of pockets to stay organized, yet it has a convenient size as well.
3 Smaller Zippered Front Pockets
1 Zippered Main Pocket
1 Zippered Hydration Pocket
In addition, this pack comes with a water bottle holder. You can conveniently carry water with you – without having to purchase a bladder!
Furthermore, you can see that a molle system virtually covers the entire front of the bag. Need even more storage space? See the additional exterior side D-rings and straps on the side.
There are even molle straps and a strong accessory clasp on the shoulder strap itself. As you can see, there's no shortage of storage possibilities.
Key Features Make this Sling Backpack Comfortable & Secure: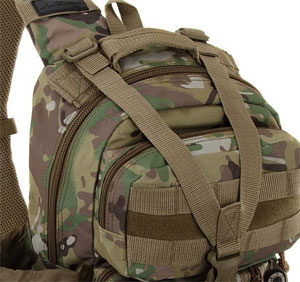 In addition to having fully-zippered pockets, this sturdy backpack has a Y-shaped load compression strap. This strap helps keep all interior contents in place, plus helps the bag hold its shape in slide around less on your back.
I especially like this feature for activities like climbing and hiking. The bottle holder even comes with an adjustable drawstring to prevent it from falling out.
Some people assume that a cross-body shoulder bag is not very secure. However, when you get an adjustable waist strap (as with this pack), your gear instantly becomes more stable and secure.
How Does it Compare to Other Military-Style Daypacks?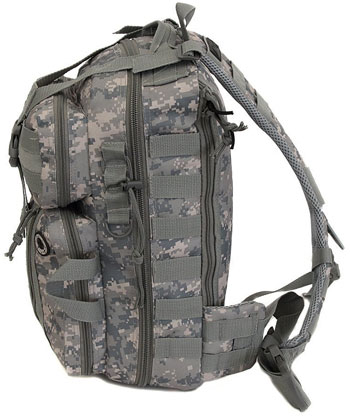 This sling runs middle-of-the-pack in terms of cost and size. It does not include a hydration bladder, which may be a potential downside for some. However, the exterior water bottle holder is a nice benefit that most other backs do not have.
The fabric is 600 Denier polyester canvas, typical of comparable packs. It has medium weight yet is plenty durable, water-resistant, reliable and easy to clean with a damp cloth.
This tactical sling has a nice advantage in that it comes in 28 different colors/camo patterns. In fact it comes in a slightly larger size as well. Essentially, you can customize your own bag.
Tactical Sling Backpack Specs:
Dimensions: 17.5″ long x 13″ wide x 7″ deep
Volume: 900 cubic inches
Material: 600 Denier Polyester, PVC-Lined
28 Color Options, including Black, Multi Camo, ACU Digital Camo, ACU Navy Digital Camo, Hunters Camo, Tan & more
Hydration-Ready (up to 2 Liter Bladder), Bladder Not Included