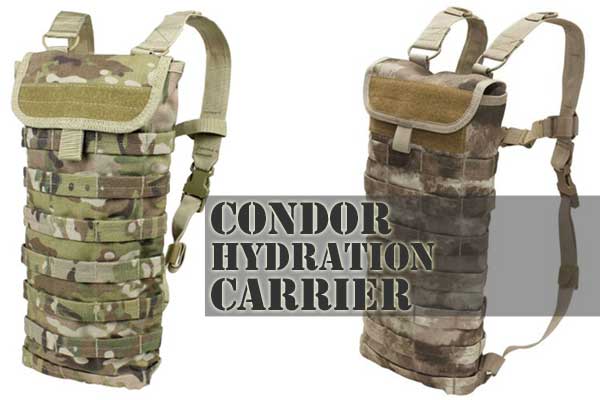 What Do I Think of the Condor Hydration Carrier?
Pro: It has a Low Price.
The Condor costs less than $35. This price is less than half of many competitors charge. Take that extra $30-$40+ and spend it on gear to put in your pack (or buy 2).
Con: You Don't Get a Bladder.
This hydration pack does not include a bladder. You will need to purchase one separately. The Condor 2.5 L bladder made to fit this bag costs about $16.
That said, if you already have a 2.5L or 3L bladder that you want to use, this tactical bag can save you significant money. It also gives you the opportunity to choose the bladder size you want. For instance, if you want more space to carry other items, you might opt for a smaller bladder.
Condor Hydration Pack Review:
Check out this Condor Hydration Pack review. It gives you a good idea of the size and features.
Pro: The Top of Backpack has a Large Opening.
It features a sturdy velcro strap that makes opening and closing your pack super quick and easy. Whether you use a bladder or not, the wide opening makes it easy to throw items in and pour them out.
Con: No Smaller Compartments.
There are no smaller compartments to keep items separate and easy to find. You get a single large chamber, and if your bladder is in there, you have less space to store other gear. Small items can fall to the bottom of the pack and may be difficult to get at unless you pour everything out.
Pro: You Can Detach the Shoulder Straps.
This means that you can use both straps at once or use them individually depending on which side is more comfortable. You can also easily use it on a modular mounting system. Most other hydration packs don't offer this capability.
Con: It's Less Secure/Comfortable.
The shoulder straps are not as form-fitting or secure as on other backpacks, such as the Camelbak Ambush. In addition, they don't have padding. To some people, this may end up affecting the comfort of the pack.
Pro: It's Small
This hydration pack has a compact design. It measures 15.5″ tall x 6.5″ wide x 3″ deep. If you don't want something bulky or heavy, the Condor fits this slot.
Con: It's Small
As I mentioned above, the Condor Hydration Carrier is compact. If you have a lot of gear that you want to carry (or even some), this may not be the bag for you. Furthermore, if you are a big or tall person, this hydration pack may simply not fit you comfortably.
Condor Hydration Carrier Specs:
Dimensions: 15.5″ tall x 6.5″ wide x 3″ deep
Item # HC-008
Does Not Include Bladder
About Condor: Condor Outdoor Products, Inc. started out selling products for the outdoors. As the company developed, they transitioned their focus to more functional and tactical gear. Now, Condor creates products to supply hunters, law enforcement and war fighters with quality and affordable apparel, equipment and other tactical gear.