The Camelbak Ambush is designed not only for functionality but also convenience and comfort. If you are looking for a smaller-size hydration pack that can hold more than just water, this is a good option.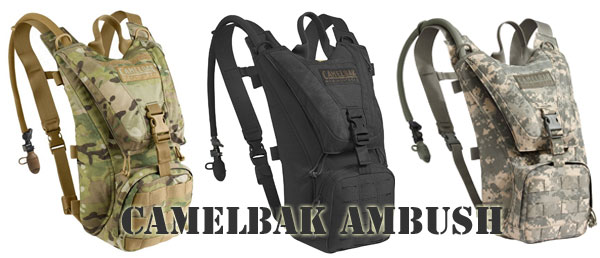 1. The Camelbak Ambush is Ultra Comfortable
First of all, this military-style Camelbak is lightweight and fits snugly on your back. Even the outer storage pockets are form-fitting. It is almost like it is aerodynamic.
Plus, there is an outer clip that holds everything in place while you are moving around. Cyclists and runners will probably find this pack really useful, not to mention comfortable.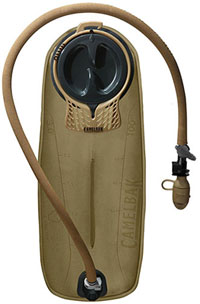 2. The High-Tech Bladder is a Bonus
Secondly, the water reservoir uses advanced technology that makes the bladder easier to use. The Mil Spec Antidote reservoir sells for almost $50 if purchased separately. It's nice!
It features an extra large opening that makes re-filling fast and easy. In fact, you can even refill the bladder without having to remove it from your Camelbak. This convenient attribute comes in handy, whether you use your pack for travel, range practice, recreation or emergencies.
You also get a hydrolock bite valve adapter that also includes a dust cover. This small accessory is key if you plan on doing day-long trips or you set your bag down places. The dust cover keeps the mouthpiece clean.
Also, you may not be able to see it that wall, but the drink tube is insulated.
3. Camelbak Makes it Low Maintenance
Third, these hydration packs are really simple to clean out. I don't always think about this when buying new products. However, after owning gear for a long time, I really appreciate the equipment that is effortless to clean and maintain. It end up lasting longer as well.
And finally, the zipper pulls are virtually silent.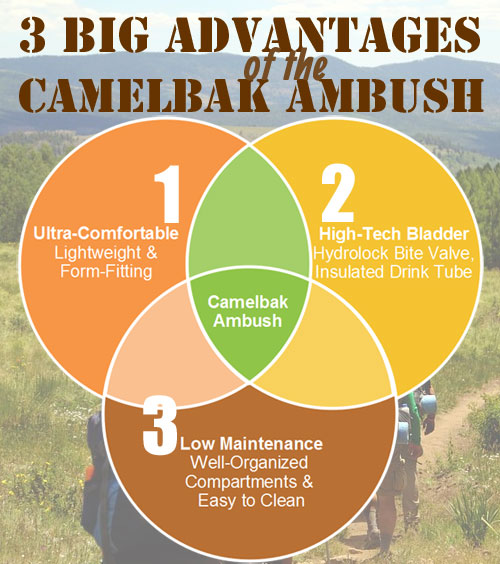 Check out this detailed review below. You get a look inside the separate compartments and mesh pockets. Plus, you can see all of the different clips and rings along the back straps.
Camelbak Ambush Specs:
Material: 100% Nylon
Hydration Capacity: 102 oz (3.1 L)
Cargo Capacity: (3.1 L)
Total Capacity: (6.1 L)
Virtually Silent Zipper Pulls

4.7 rating