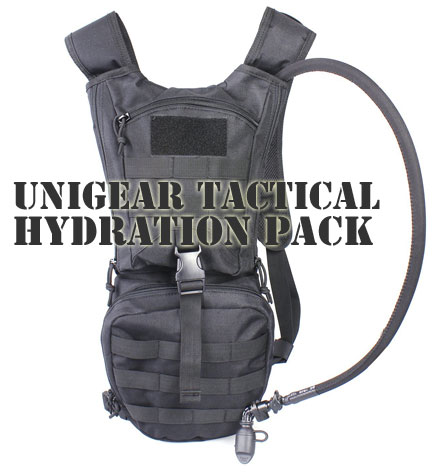 The Unigear Tactical Hydration Pack has a sleek, compact design that works great for running, cycling, hiking, walking and more.
Unigear Tactical Packs are Useful for More than Just Hiking & Camping…
This pack holds up well in a variety of outdoor activities because of its durability. That said, the functional design and small outer pockets make it a comfortable carrier for everyday use too.
In addition to small camping tools, pocket knives, sunscreen and other gadgets, the outer pockets perfectly fit items like wallets, keys, sunglasses, cell phone and more.
You can adjust both the shoulder and chest straps. Even though this is a lower-priced hydration pack, you can really customize the fit to make it comfortable and snug. In fact, it fits kids as well as adults.
Why I Like This Backpack: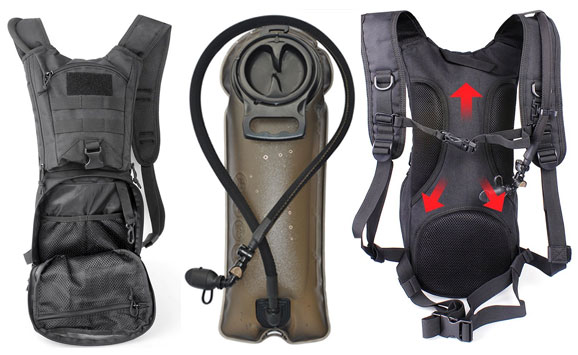 I like this affordable hydration pack because it is rugged yet lightweight. It doesn't contain a lot of expensive features, but it features plenty to make it handy. For example:
1. Back Pad Offers Comfort + Function
It includes a comfortable built-in ergonomic back pad. Not only does this pad provide additional cushioning, but it gives another layer of insulation for the bladder.
2. Extra Storage Capacity
Both outer pockets have a handy molle system for attaching extra gear when needed. Basically, you can expand your storage without having to buy a larger backpack.
3. Well-Organized
Backpack compartments contain interior mesh pouches for organizing small items. This makes things easier to find and helps them stay put while you are moving.
4. Convenient Bladder Design
The bladder has a wide opening, so you can easily put ice in it. Also, the way the backpack is constructed, you can fill the bladder without having to take it out of the pack. Very convenient.
5. Advanced Drinking Tube Features
The drinking tube is insulated and has a convenient 360 swivel spout (This feature is awesome!). It also has a built-in dust cover.
Choose from 4 Different Colors
Unigear Tactical Hydration Pack Specs:
Construction: 600 Denier Polyester, PVC Lining
Breathable Mesh Padding on Back
Emergency Whistle on Chest Strap
Includes 2.5L BPA-Free Bladder
Dimensions: 19″H x 10″W
Unigear specializes in a variety of outdoor recreational products, including a line for hiking and camping. For example, in addition to tactical backpacks, they offer camping hammocks, outdoor cookware, tactical first aid kits, camping headlamps and more.