In my opinion, this military style shoulder bag has just as much style as it does function. Since it can comfortably fit a laptop computer, it makes a great work bag as well as a hiking pack.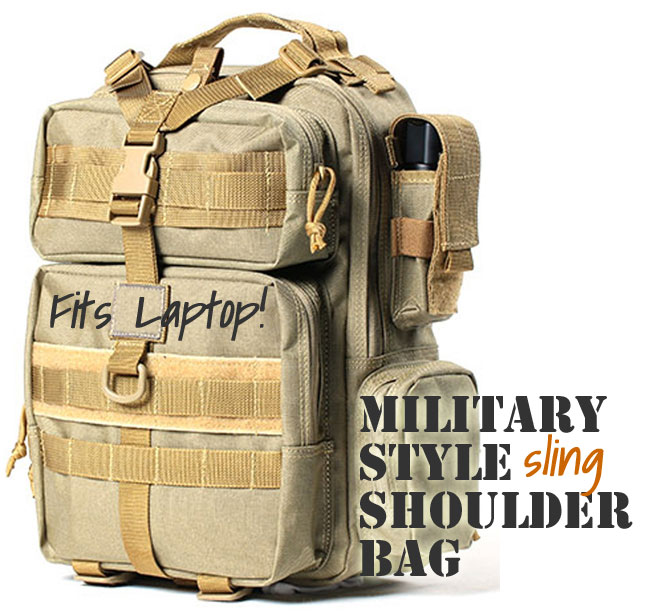 In addition, it comes hydration-ready. This satchel features a hydration pocket and pass-through slot at the top of the pack for a water tube. Although it does not include the bladder itself, the pocket can carry a good-sized 2.5 liter bladder.
Military Shoulder Bag Specs:
Material: 1000 Denier Polyester, PVC Lining
Dimensions: 15″ tall x 9.8″ wide x 6.3″ deep
Straps: Adjustable Shoulder Strap, Adjustable Waist Strap & Grab Handle
Fits a 2.5 Liter Bladder (not included)
Colors: Black or Tan
Weight: 2.8 lbs
Multi-Functional Tactical: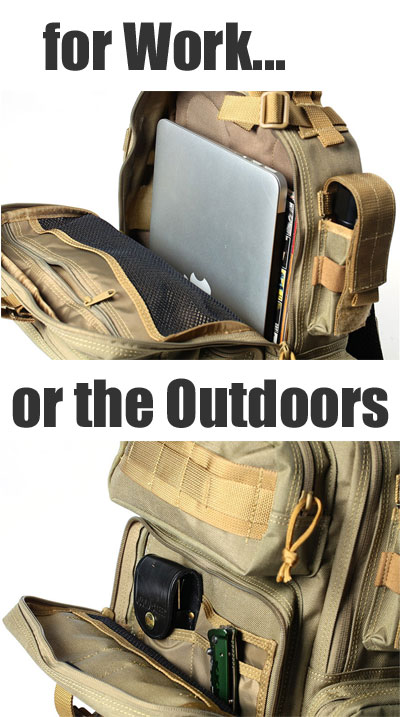 You can get a lot of use out of this multi-purpose rucksack because you can use it for a variety of activities.
For example, use it for hiking, camping, hunting, biking, running or a messenger bag for work. The adjustable padded shoulder and waist straps help keep the bag securely in place while you are moving around.
All that said, a backpack couldn't to do all of these things if it wasn't built to last. You don't have to worry with this military style bag. It's made with heavy-duty 1000 D Polyester.
Furthermore, you can carry it on your back as a shoulder back or on your chest as a sling. Plus, you can hand carry it using the attached top handle. Did I mention that this bag is versatile?
Military-Style Sling Features 16 Pockets…
Multiple zippered pockets make it easy to keep interior contents organized, which is much more convenient than a traditional backpack. You get easy-access pockets on the outside, plus compartmental pouches on the inside.
The bag has 16 pockets total (Wow!). However, if you need more storage compartments, simply attach more pouches using the molle strap system on the back.
Does Size Matter, for the Shoulder Bag?
This military-style sling has a total of 16 different pockets and compartments – plus it can carry a laptop. However, it is not as large as it appears.
In fact, some people might consider it small. This bag only measures 16″ tall.
That said, if you don't want a large pack, great. If you are shopping for a tactical pack for your child, even better. This sling may have the perfect measurements.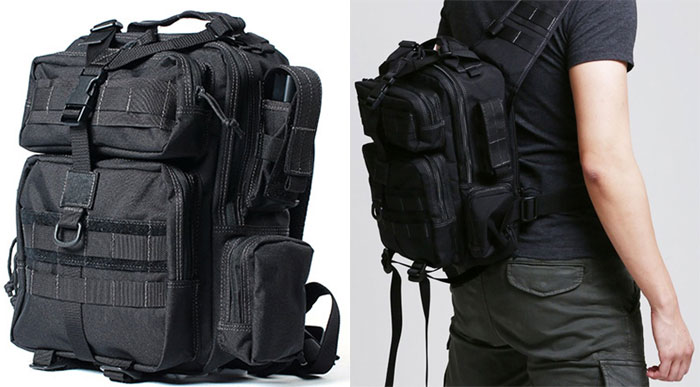 If you typically wear a backpack using a single strap, you may prefer the sling style. You may find that this style is easier to take on and off. Plus, it stays just as secure as traditional backpacks when you use the attached waistband.