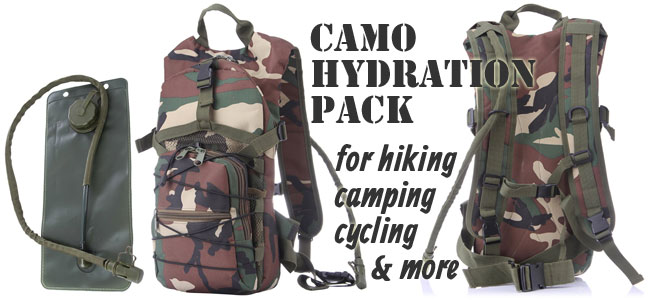 This camo hydration pack has very similar features to other tactical backpacks. However, right now you can get the camouflage backpack plus 2.5L hydration bladder for only $27, a savings of 50%. Plus, it's camo!
This military-style backpack does have a lot of cool features, though.
1. Good for Mobile Activities
For instance, I like the fact that it has a compact size that functions well during running, cycling or climbing. Plus, the shoulder straps, chest strap and waist band all adjust for a snug, secure fit.
I don't like backpacks that slide around while you're trying to do things. It's distracting, not to mention annoying. This pack makes sure it stays in place.
2. Decent Amount of Fastened Storage Compartments
Although smaller in size, the pack features several separate zippered storage compartments. Not to mention, straps, rings and outer elastic bands for securing even more gear. Plus, don't forget it has space for the bladder too.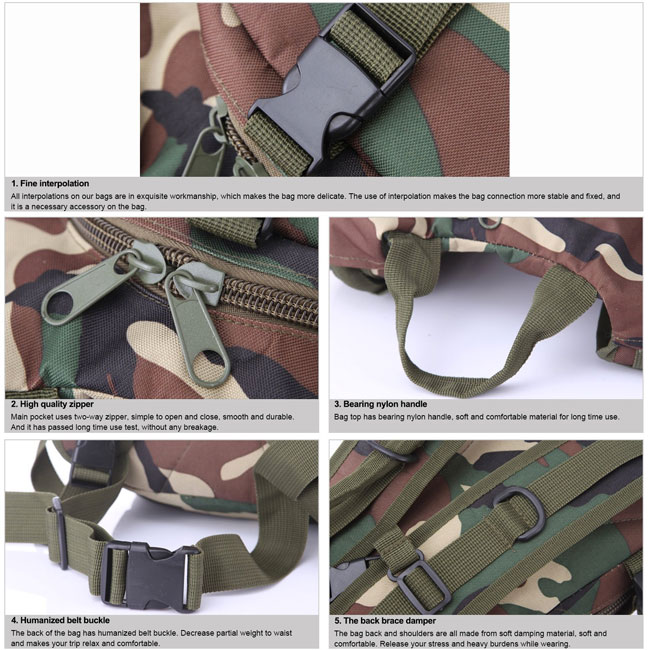 3. The BPA-Free Bladder has Nice Bonus Features
The bladder can carry a good amount of water: 2.5 liters. In addition, the big mouth opening makes it quick to fill with water and ice, and it's easy to clean. (By the way, did I mention that it's BPA free?) When you spend lots of time in the outdoors, these convenience factors really add up.
But don't go anywhere! Here's even more convenience: The drinking tube keeps water cooler because it has an insulating outer sleeve. Plus, the mouthpiece has an easy-to-use bite-valve and dust cover.
My Thoughts: In summary, you can find many of these backpack features in other tactical hydration packs. However, it's more difficult to come across (1) a hydration packback that (2) includes the bladder, (3) costs less than $30 and (4) comes in camouflage.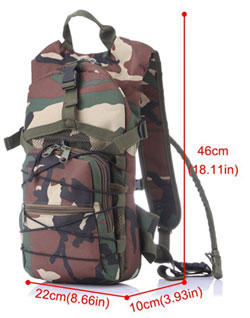 Camo Hydration Pack Specs:
Dimensions: 8.7″ long x 18.1″ tall x 3.9″ wide
Weight: 1.9 lbs
Backpack Material: Water Resistant High-Density Nylon Fabric
Hydration Bladder Included
Bladder Capacity: 2.5 Liters
4 Color Options: Black, Army Green, Khaki, Camouflage