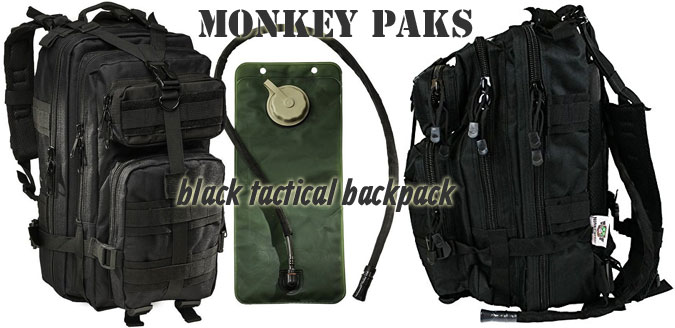 I am a big fan of camo. That said, I also like black tactical backpacks because they look equally rugged but can also pass as everyday bags.
A Tactical Backpack that Offers Good Value…
The Monkey Paks Small Tactical Assault Military Backpack has lots of cool features and functions – plus right now it only costs $30!
I would have automatically assumed that a cheap price like this would equal a cheap bag. However, Monkey Paks makes this product. Their gear not only looks cool, but it has durable construction. They guarantee it.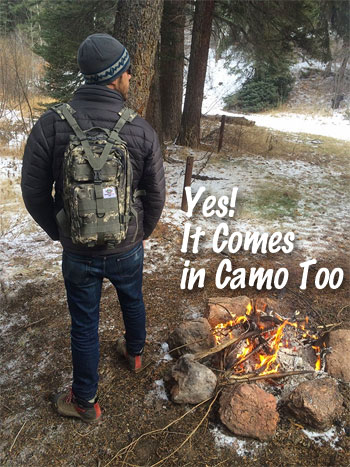 I consider this backpack a medium size. As you can see from the photo, it contains multiple compartments. Therefore, you can expand the pack to the size you need. Plus, the pack has PALs webbing and is MOLLE compatible for attaching even more gear to the outside.
Going for an hour-long bike ride where you only need to carry water? No problem! This black tactical backpack includes multiple compression straps to condense the bag into a compact camelback-style rucksack.
Want a larger backpack to carry food, water and hiking gear for a day-long excursion? No need to get another bag. Expand the pockets to fit more gear.
Pocket Dimensions:
Main: 17″ tall x 10″ wide x 4.5″ deep
Secondary main: 16″ tall x 9.5″ wide x 2.5″ deep
Top front: 6″ tall x 8″ wide x 2.5″ deep
Lower front: 10″ tall x 9″ wide x 2″ deep
Depending on where you work, you may even be able to take it to work with you. It's large enough to carry a small laptop or tablet. Remove the bladder and give yourself even more carrying capacity. The backpack features 5 different compartments, so you can easily organize work materials, other gear and your lunch.
Multiple compression straps means that this rucksack will expand or compress to your load needs. Sling it over your shoulder for casual use or adjust the padded shoulder straps and utilize the hip belt to hit the trails.
Monkey Paks Military Backpack Specs:
Capacity: 1631 Cubic Inches, 5 Separate Compartments
Material: 600 Denier Nylon (heavy duty, water resistant)
Weight: 2.5 lbs
Includes 2.5 Liter Hydration System
Colors: Black, Tan or ACU