The Monkey Paks Tactical Backpack Bundle does it all. In fact, some call it the "Big Monkey". This military-style carrier lets you store gear for a 3-day trip, yet you can also comfortably use it for hour-long hikes.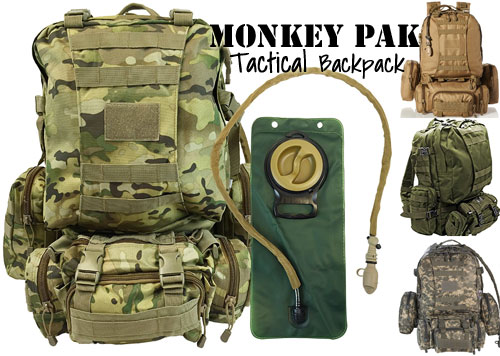 1. This Tactical Pack has Tons of Versatile Storage.
First off, you get a lot (I mean a lot) of storage. This pack has tons of separate pockets and compartments. Not only can you cary a lot of gear, but you can keep it well-organized and easy to find. (Bring your small items without losing them!)
In addition, it comes with removable pouches and fannypack. This means that you can travel fully loaded – or you can travel light. And you don't have to buy two separate backpacks to do so. You can even use the fanny pack by itself (as a waistpack or shoulder sling) for super lightweight excursions.
All of these elements give you more control over how you transport your gear and how much you carry. Ultimately, it becomes easier, more convenient and more comfortable.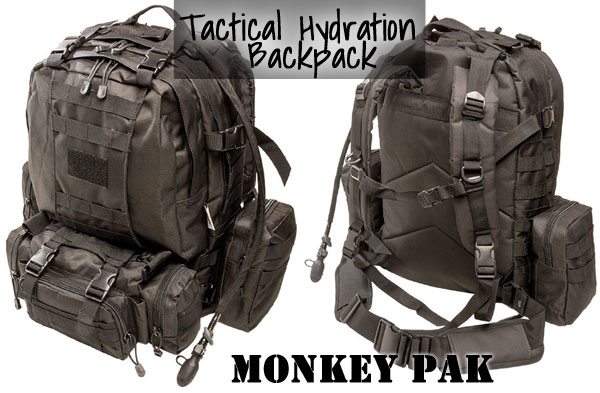 2. Monkey Paks Makes Their Gear Ultra-Durable…
Next, you don't have to worry about durability. The backpack itself is constructed of 600D heavy duty nylon. Therefore, you can use it in rain and snow with a problem. It is also double-stitched to provide extra strength and durability. This gives you less to worry about when you're out in the wilderness.
By the way, 600D is stronger than 400D nylon, and nylon is more durable than polyester. Quality backpacks are typically made with 600D nylon, but you can get even stronger material at 1050D nylon.
Monkey Paks use big teeth zippers, which hold up longer. In addition, they have paracord pulls to keep them quiet while you are hiking around. Plus, I think this makes them easier to pull.
3. Get a Bladder Free with Upgraded Features:
The package also comes with a nice 2.5L bladder. It has a wide mouth so you can fill it up fast, the case is BPA-free and the drinking tube is insulated. Plus, the mouthpiece features an "easy-release" button, so you can clean them more easily. The mouthpiece also has a dust cover to keep it cleaner in the first place.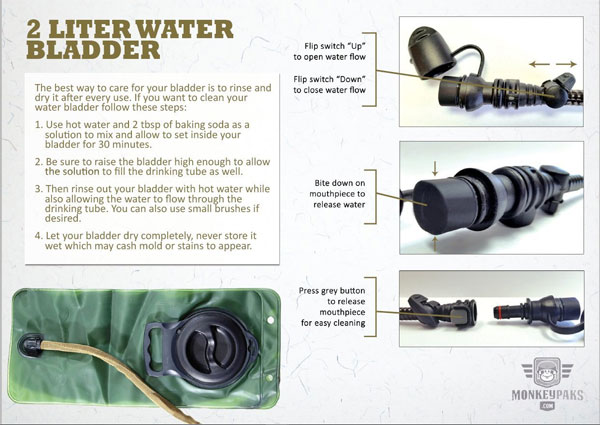 Monkey Paks Tactical Backpack Bundle Specs:
Main Pack Dimensions: 20″ tall x 12″ wide x 5.5″ deep
Detachable Side Pack Dimensions: 8″ tall x 5.5″ wide x 2.5″ deep
Includes 2.5L BPA-Free Bladder
5 Color Options: Black, Multi-Camo, Tan, ACU Digital Camo and OD Green

4.4 rating
About the company: Monkey Paks makes lots of cool army-style backpacks that go beyond just military use. All sorts of people love them, including hunting enthusiasts, survivalists, weekend warriors and those who love adventure.